Chau clan – generation name (班辈排行)
Very often the Chinese name may contain a generation word (班排).   This generation word is a part of the name that is common to all the decedents in a clan of the same generation.  Men belonging to the same generation within a clan might share a common name.  This name can be placed either in the middle or at the end  This is a way to signify common ancestry.
In the case of 周 (Chau) 振任 (Chung Yum), the first character振 (Chung) is a Generation name.  This is shared with two of his brothers.  His parents have 3 sons, and they share a common 1st character name.
周 (Chau) 振偉 (Chung Wade)
周 (Chau) 振傑 (Chung Kit)
周 (Chau) 振任 (Chung Yum)
周 (Chau) 振偉 (Chung Wade)
周 (Chau) 振傑 (Chung Kit)
周 (Chau) 振任 (Chung Yum)
Generation poem
This generation name is specific to that clan. It is set out in the zupu, as a clan's Generation Poem (字輩詞).  Essentially the for fathers of Chau clan had predefined a common sharing bond (in the form of a shared name) for generation to come.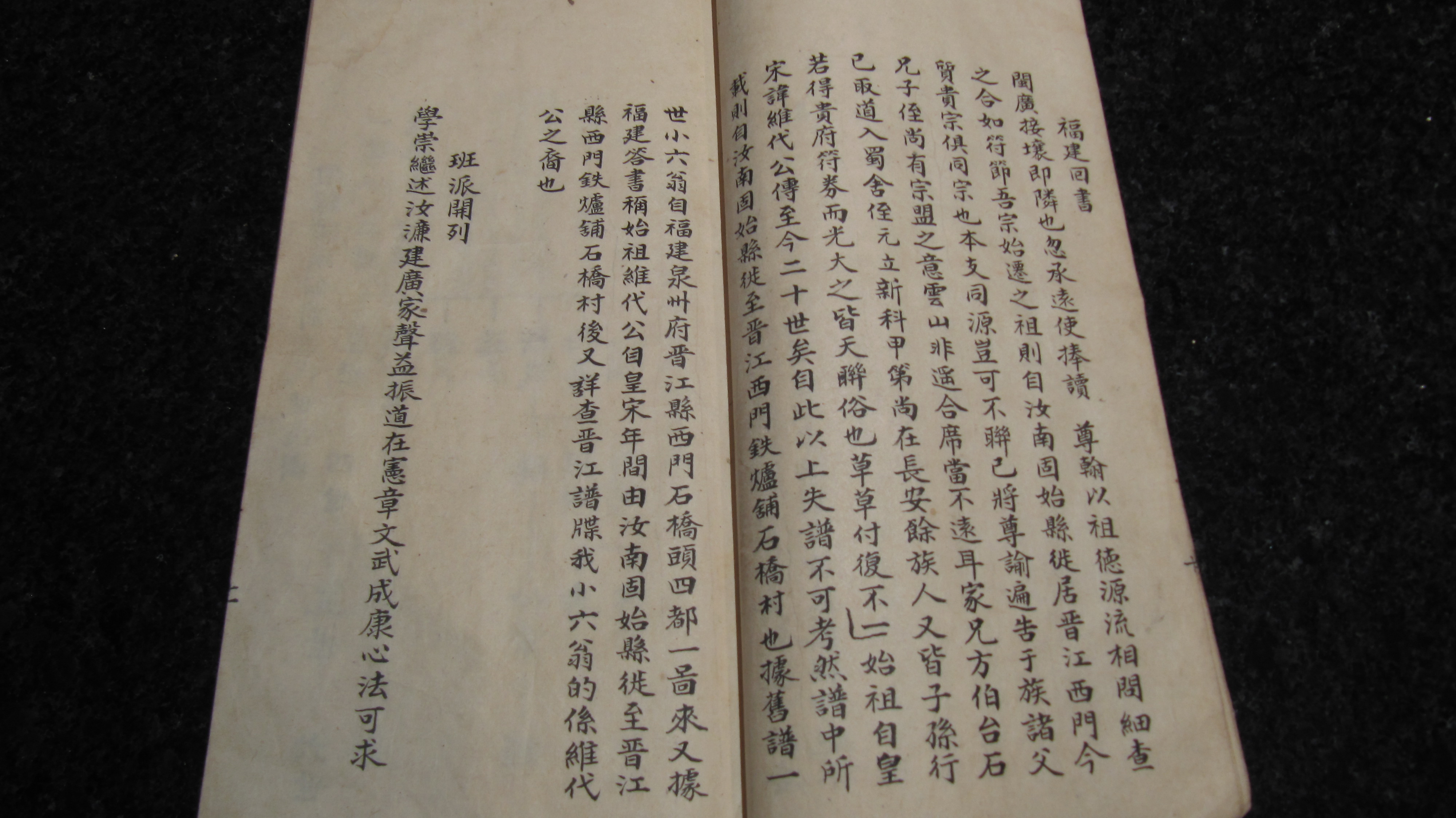 The generation poem of the Chau clan is shown above. (the vertical list on the left)
For the Chau clan the Generation Poem is written below, together with estimates of the birth decades of that generation.
家 Kar              eg 周 (Chau) 家美 (Kar May)   born 1760s
聲 Sing            eg 周 (Chau) 聲維 (Sing Wai)   born 1800s
益  Yek              eg 周 (Chau)  炫益 (Yun Yek) born 1830s
振 Chung         eg 周 (Chau) 振任  (Chung Yum)  born 1870s
道 Dow            eg 周 (Chau) 道生 (Dow Sung)   born 1930s
在 Joy              eg 周 (Chau) 在鎬 (Joy Ho)   born 1960s
憲 Hin              potentially born 1990s
彰 Cheung       potentially born 2020s
文 Man            potentially born 2050s
武 Mo              potentially born 2080s