Tea exporter – Fung Jian寬棧  and Kim Shan Jong 金山庄 
Foon Jian in 322 Des Voeux Road West, Hong Kong (Circa 1950's)
Foon Jan寬棧 was an export business located in the western district of Hong Kong. It was first established in 1935 in 47 Des Voeux Road West (德輔道西). It was relocated to 322-324 Des Voeux Road West.
The name of the business is made up of two words –   寬 (Fung) is the second character of Chau Dow Foon, eldest son of Joe Yow.    棧 (Jan) means retail trading shop.
Tea business
It was a tea export business, with Gun Kee & Co (Australia) being a distributor in Australia.   It bought, blended, packed and shipped teas to Australia.  The tea was primarily black Ceylon tea blend tailored for Western taste.
The buildings at Des Voeux Road served as an office, tea sorting workshop (on the 2nd floor), and accommodations for staffs on top floor.    At one stage, some 20-30 people worked in the tea factory.   It was common at that stage, that factory workers were provided with meal and for some workers, with accommodations.
Tea was blended to the specification or order by Gun & Co in Melbourne, packed in cases for exports.  These cases were transported by lorries to the western water front district of Hong Kong island, to be ferried onto ships, moored in the western part of the Victoria harbour.
Business card and company logo for Foon Jian and Gun Kee
Ginger and sauces
Another line of export is sugar syrup ginger, where Gun & Co supplied these to Buckley & Nunn, David Jones and Myer, especially for the Christmas season.    The ginger was brands 和興 Wo Hing – in reference to its origin from the Wo Hing Sauce & Food in Macau.  (See Wo Hing sauce)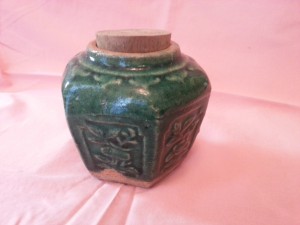 Original ceramic jars for Wo Hing ginger.
Gingers were sourced from China from 江西 region, semi processed in HK – peeled, processed, marinated shipped to Australia.  The assembly and gift wrapping were done in Gun Kee with porcelain jars imported from Hong Kong.
Joe Yow spent little time in this business and the day to day operation is run by his sons, especially Chau Gun and his son Chau Gee Wing .
Travel service business 
The business also had a 'money transfer and travel agent' arm.   It would assist services to migrants in passage from and to Australia.  This included travel documentations, tickets, temporary accommodation, connecting with other country men in Australia, money savings and money transfer, and any essentials supplies for the journey.
金山庄  (Kim Shan Jong),  translated to Gold Mountain Trading house.   Gold Mountain refers to gold fields, in San Francisco and Victoria.

Signage of Foon Jian