The Melbourne General Cemetery was created in 1853 in Carlton North. The cemetery for Melbourne at the time at Flagstaff gardens (now the Queen Victoria market) Garden, was full.
The cemetery covers 43 hectares (106 acres), and it is one of the most important cemeteries in Australia. It was opened in 1853, and was the first modern design cemetery in Victoria with large public park and wide wavy paths.
A Chinese plot was established under the Other Denomination (Compartment F), with Roman Catholic in west and Church of England on the East of it.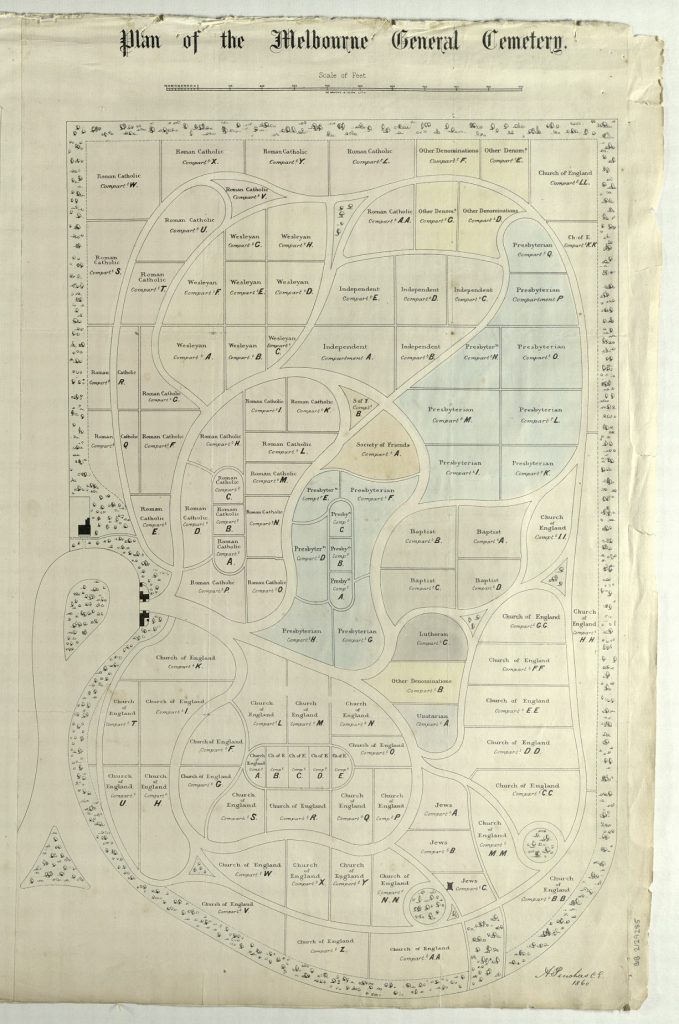 The original plan for Melbourne General Cemetery, clearly showing Plot F on the top right circa 1860.
http://trove.nla.gov.au/work/171313336?q=carlton+cemetery+plan&c=map&versionId=186816176
http://digital.slv.vic.gov.au/view/action/singleViewer.do?dvs=1459062667299~508&locale=en_US&metadata_object_ratio=10&show_metadata=true&VIEWER_URL=/view/action/singleViewer.do?&preferred_usage_type=VIEW_MAIN&DELIVERY_RULE_ID=10&frameId=1&usePid1=true&usePid2=true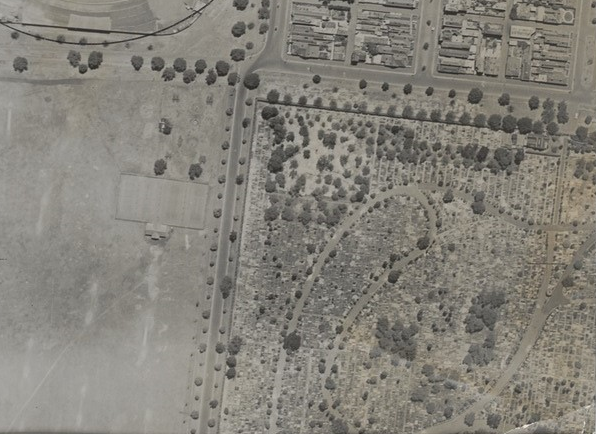 An aerial photo of Princess garden with a partial view of the Melbourne General Cemetery, in 1930.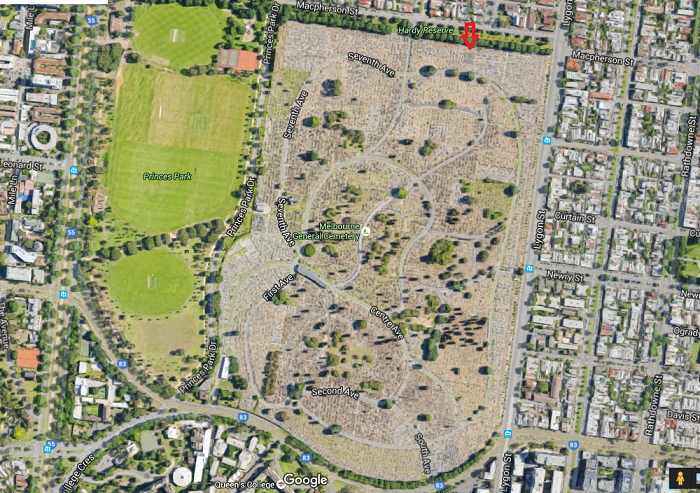 Google map of Melbourne General Cemetery in 2016.  The Chinese plot is denoted with a red arrow.
The Other denominations
The Chinese plot is part of the Compartment F – other denomination.
Don Chambers in his book The Melbourne General Cemetery wrote
" The burial ground were allocated to each denomination based on the census data on religion allegiance, which suited Anglicans and Roman Catholics, but means Jews and the Society of Friends (Quakers) gained relatively small burial areas. Chinese, Afghan or Aboriginal communities were not allocated burial areas, but they could bury their dead in 'Other Denominations' ground according to their own particular tradition. "
The cemetery provided an area for the Chinese to practice their burial ritual, albeit within a narrow boundary.
Don Chambers also wrote
"..within there allotted cemetery spheres, Jews, Chinese and 'pagans' were free to conduct their own burial rites without interference from Christian trustees."
However
" It would be difficult for members of European religious denominations Jew or Gentile to comprehend that a fireworks display at a Chinese funeral had anything to do with religion.  The infamous 'larrikins' of Carlton would flock to enjoy such spectacle of Chinese religion which provided another reason for cemetery trustee to frown upon oriental customs. "
References
The Melbourne General Cemetery – Don Chambers, ISBN 1 86447 057 7