Rules of See Yup society members
The SeeYup society set out rules for its members.  This prescribed the rules of behaviour miners on and off the gold fields.     Here is an excerpt of the society rules of the SeeYup society in Ballarat, first published in 1854 ( 4th Year of Emperor Ham Fong, 11th month 6th day).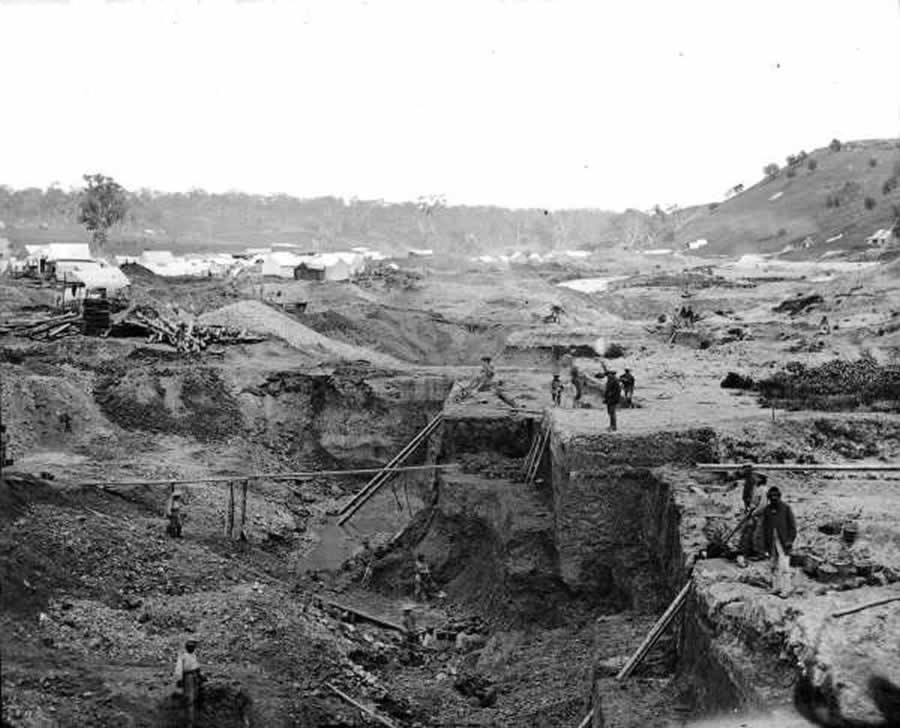 Chinese encampment, Guildford near Castlemaine', c. 1861
Source   Richard Daintree
http://www.egold.net.au/objects/DEG000197.htm
Charges and  fees
Rule 1:  the Su-Yap people, no matter whether new chums or old residents, shall each man, subscribe £1 5s towards the formation of a fund for defraying the expenses of their club house.  If any subscriber have any business to lay before the club must bring this ticket along with him.
Rule 2 : The club house shall be in Melbourne for the convenience of those who come from and go to China.  Old chums, on producing a ticket, shall be allowed to take up their quarters in the club house."
How to treat your country man
Rule 3 : All our country people who come to dig for gold must love and help each other.  The strong must not oppress the weak, and the many must not injure the few.   Any member who stupidly presumes to disregard this rule shall be fined in the sum of £3"
Mining claims
Rule 8 : Everyone's claim must have its defined limit of eight feet, according to English measurement. The English have their rules.  There must be no quarrelling.  Anyone who acts contrary to this rule shall be dragged to the club house and receive twenty stripes.
Conflict resolution
Rule 14 : Rule In regards to disputes concerning claims, shafts and dams, the English regulation must be followed.
Rule 19 :  In every case of quarrelling among the people of Su-Yap clan, the matter must be brought to the club house for impartial adjustment.
Interaction with European
Rule 10 : European pay strict regard to cleanliness.  No heaps of fetid filthy stuff must be allowed to accumulate by the sides of tents, nor must such places be used as water closets.
Rule 12 :  Europeans are also very particular about their cloths, hats, and shoes.  On both working days and Sundays no member must go bareheaded or bear footed.
Rule 27 : The costume of the Chinese being very much disliked by European, our friends and relatives who go about the streets, or who are engaged at work, are forbidden to wear Chinese Trousers.
Summary
It was clear that the SeeYup society saw the need to organise the clansman in the gold field. By giving them a 'legal-social' structure, they may have reduced conflicts both with Chinese and European.
Source :  
SeeYup club rules,   Report on The Chinese Population in Victoria, 1868, Rev. W. Young