Grand opening temple
The temple was opened in September 1856. By all accounts, the opening was a grand affair.  The proceedings were recorded in a number of newspapers in the colony of the time.
The Argus in 1856 wrote in detailed the opening ceremony.  It described the consecration at the Kwan Ti alter, burning of offering, leading off fire crackers and a feast for the crowd.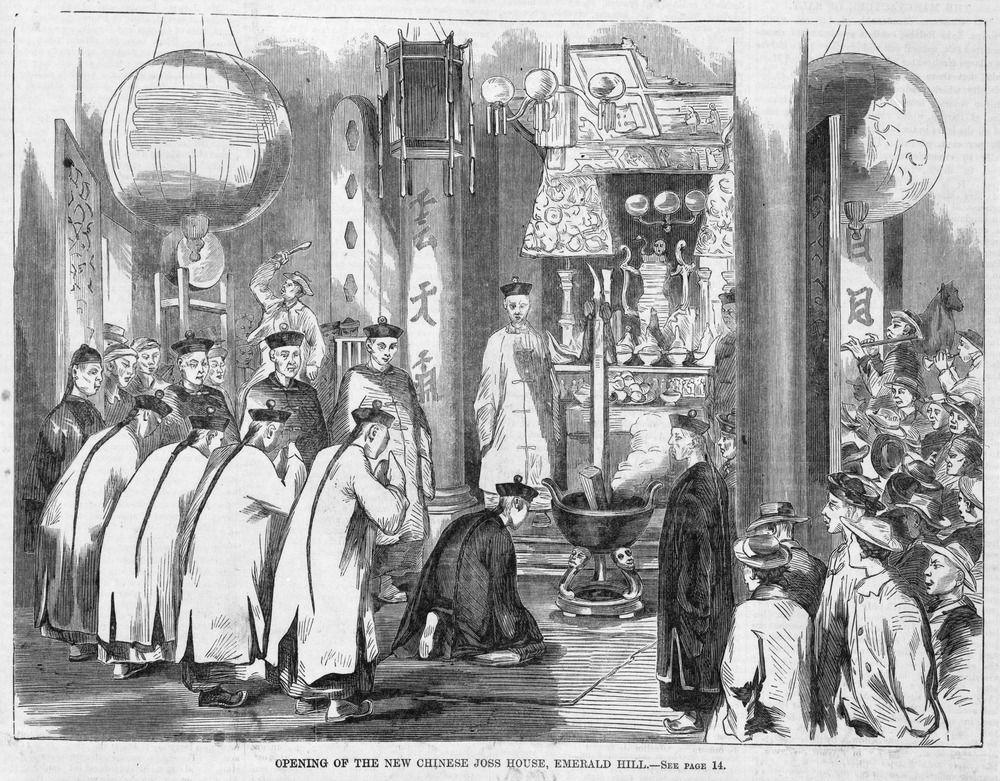 CONSECRATION OF A CHINESE TEMPLE AT EMERALD HILL
http://trove.nla.gov.au/newspaper/article/7137247?searchTerm=joss%20house%20emerald%20hill&searchLimits=
The picture above showed senior members of the society performing ceremonies in front of the alter. Incense or paper offerings were burnt in a large metal urn. A man was seen striking a drum in an announcement of the start of ceremony, where a band played music in the background.
The Argus Sep 25, 1856
" On Tuesday morning one of the most singular ceremonies which has ever taken place in these colonies was performed at Emerald Hill, viz the consecration by a large number of Chinese of a pagoda, or temple of worship.
The building, which may be called the only pagan place of worship in Victoria, is situate some distance beyond the Orphan Asylum, in Emerald Hill, and is a wooden edifice some 60 or 70 feet long by about 85 in width.
It has two stories, the lower one being apparently the one devoted to religious ceremonies.
The upper story is surrounded by a gallery, and lighted from the roof. This is evidently a sort of joss-house or assembly hall.
The whole interior is painted and ornamented in the Chinese style, and hung round with banners.
In the lower story is a picture enclosed in a carved case, and to this all the external ceremonies of adoration were paid.
The painting consists of three figures, the centre one being that of an old man, of reverend appearance, and in a sitting posture on one side of him stands a young man, and on the other a man of mature years.
To this picture those assembled at the consecration, prostrated themselves with much seeming respect.
The ceremony of consecration seemed to consist of an offering of poultry and other food either to these painted idols or to some imaginary beings whom they represented.
The food so offered was not touched by any of the assembly. A continual clatter and clang of gongs, drums was kept up, and this noise was accompanied at times by a sort of chant while the devotees passed before the altar, if so it may be termed, and bowed and prostrated themselves before the picture.
About midday a banquet, consisting of cake, fowls, fish, was served up in the upper chamber, and was plentifully partaken of by the assembly. After this, fireworks were discharged, and between three and four, the company separated, and returned to Melbourne, in great good humour. "