Way Lee saw the great potential in trade between Australia & China, especially in the export of Australian agricultural produce and raw materials.
In an open letter published in the West Australian Sept 19, 1905, he listed the following agricultural and mining commodities, together with the reasons for their demand in China
He listed
Flour
Wool
Butter
Cheese
Frozen meat
Cattle & sheep
Fruit
Timber
Silver
Cooper
Lead
Here is what he said on live-stock export in 1905
" Cattle and Sheep: A considerable trade could be effected in live stock; and the Northern portions of Western Australia and Queensland, and the Northern Territory of South Australia, from their nearness to China, could be particularly benefitted.    "                              
Economic reasoning
His argument for this came down to for two main reasons
The demand for produce, which Australia has plentiful, is almost limit-less
Australia was starting from a very low base, and that other countries have started the trade engagement process
He wrote in 1905, referring to the international competitive of global trade
" In 1898 the value of the imports into China was £31,368,449.   …. but Australia (who from her geographical position is pre-eminently the natural country to trade with China) unfortunately only possesses a very insignificant proportion of the Chinese trade…..in 1899 the total value of both imports and export between Australasia (including New Zealand) and China only amounted to £1,700,000.  "
Way Lee lobbied the government to establish a trade treaty with China.   In 1902, over a period of 18 months, a series of letter exchanges between John Forrest (Minister of External Affairs) and Prime Minister Edmund Barton discussed this matter.
In one of the letter Way Lee wrote
 "… suggest that an Agent be appointed to represent Australia in China, who will immediately proceed to that country, with a view to arranging with Chinese Government for a commercial treaty between the two countries.
That the Agent should then travel through China to introduce Australian products to the various firms, and should act as an Intelligence Officer, advising Australia re trade in China & vice-versa.  "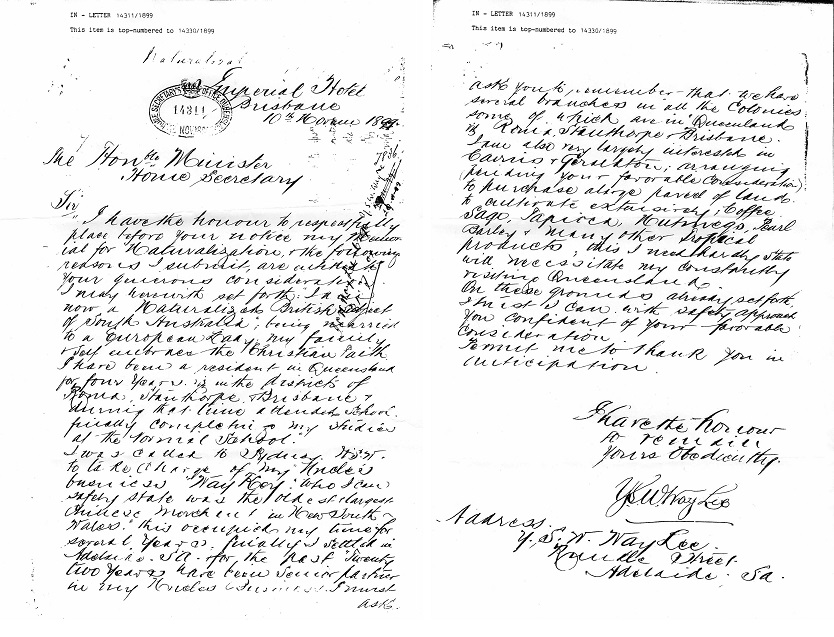 Examples of a hand written letter by Way Lee to Queensland government on increasing trade, circa 1899.
The government at the time did not proceed further with this suggestion.    He received a formal letter on Oct 8, 1903 .
 " With reference to your letter of the 30th April last, addressed to Sir John Forrest, on the subject of the possible Australian trade relations with China and the East, I have the honour to inform you that your communication has received the careful consideration of the Commonwealth Government, who, however, do not see their way, for the present, at any rate, to take any steps in the direction indicated by you.  "
Prologue
China is now the biggest trading partner with Australia.  In 2017, the Australia's export to China is valued at A$32 billion.   A trade treaty, the China-Australia Free Trade Agreement (ChAFTA) was signed in 2015.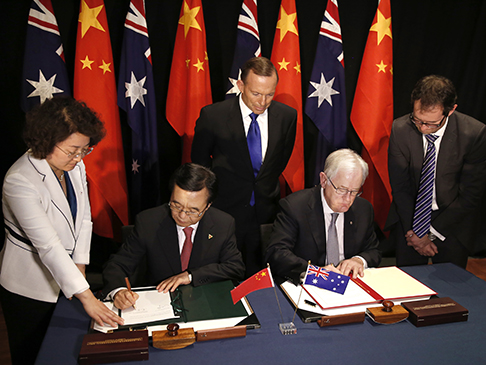 Minister for Trade Andrew Robb sign the Australia China Free Trade Agreement, June 2015